Prague,
30
September
2014
CEDEM 2014: The commercial market will face higher vacancy rates
In the next year, the vacancy rate in Prague will total up to 15 %.

On 23 and 24 September 2014, the 15th year of the specialist conference, CEDEM CEE 2014 focused on the CEE real estate market, was held in Prague in Slovanský dům, Na Příkopě.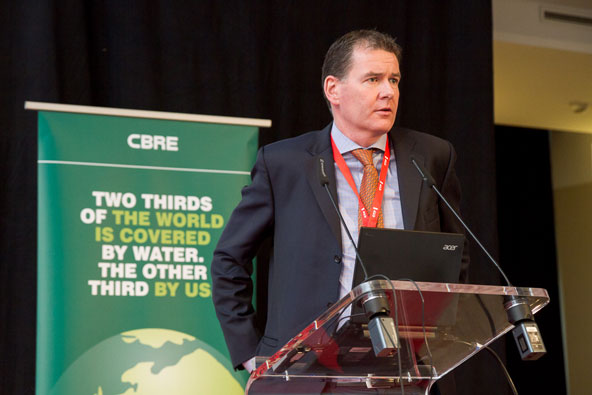 Real estate investors, developers, financiers and professionals attended the conference from the real estate market sector in Central Europe. The first presentation was given, under the auspices of the CBRE Company, by Jos Tromp, Senior Director and Head of CEE Research & Consulting. He covered the subject of the real estate market in Central Europe and its prospects by 2020 and focused on several topics, specifically whether "Economic Growth is Coming Back to Europe? He also analysed "Influence of the Ukrainian Crisis on the Real Estate Market in Central Europe" and "How the Structure of the Market Changes due to Liquidity". Finally he talked about what can be expected from the total revenues using the example of commercial vacancy in Central and Eastern Europe and introduced the Shopping Centre Index, which describes the behaviour of customers and the retail market in the Czech and Slovak Republics. In his presentation covering the issue of the commercial market, Jos Tromp accentuated the following: "The vacancy rate of office space in Prague is likely to increase towards 15 % towards end of 2015. A number of cities across Europe already record higher vacancy rates for modern office space, examples are Barcelona, Amsterdam, Madrid and Budapest where currently vacancy rates are around 18 %. The main differentiator between Central European and Western European cities is that currently more space is under construction in Central Europe which may cause vacancy to increase more quickly compared to Western European cities".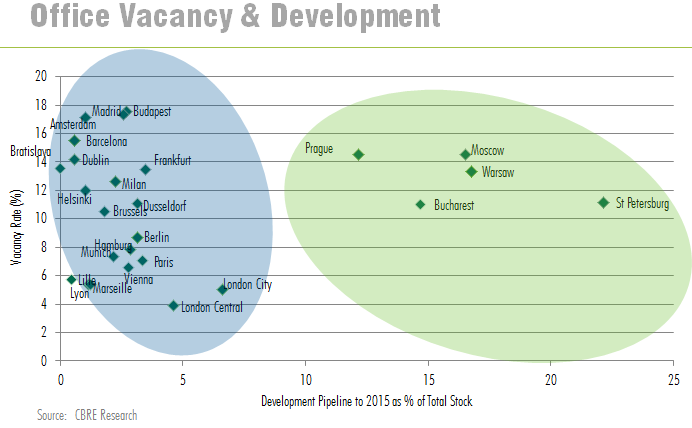 The participants had a lively discussion at the end of the speech on the construction of new offices and they raised a question "Why are new offices being built when Prague is facing such a high vacancy rate?" Richard Curran, Managing Director, CBRE has the following opinion: "Developers should reconsider further construction of office buildings. The demand of companies for new office space is not high enough to cover what is already available."
Mike Atwell, Senior Director, CEE Capital Markets, CBRE gave a presentation on the subject of trends and investments in capital markets. "Compared to the last year when investments in Central and Eastern Europe amounted to EUR 4 billion, investment just for the first half of 2014 amounted to EUR 2.6 billion. Romania has experienced the highest growth and also the Czech Republic and Poland have remained to be very attractive," said Mike Atwell, describing the situation on capital markets.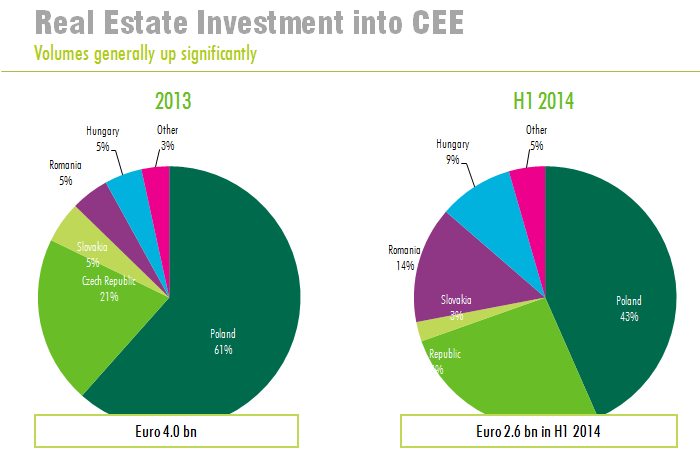 The organizer of the Conference was the Roberts Publishing Media Group. The general partner of the conference was CBRE.