Commercial Property Market: Growing Interest in the Commercial, Office and Warehouse Space Concept
First business bark of its type within reach of the Prague Metro. 3 in 1 concept – Commercial and office space supplemented with a small warehouse. Good access from downtown via public transport. Similar projects very popular in Western Europe for many years. Preferred by tenants in the B2B and B2C target groups.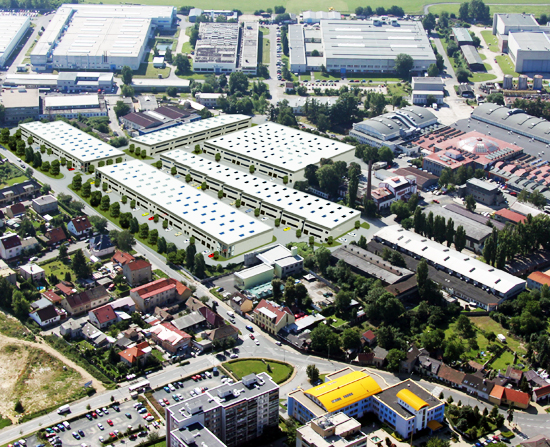 In the Czech real estate market, smaller-sized and modern commercial, office and warehouse space is becoming more attractive. If it is easily-accessible for local citizens, also providing easy access to the city centre, it may not only be used by employees, but even business partners, or by actual end customers in case of B2C target group. Similar concepts combining these qualities have become attractive mainly for companies in Western Europe.

"This trend has been visible in Western Europe for several years. It has been slow to reach here, but year after year we observe demand for similar space even in the Czech Republic," said Filip Kozák, Head of CBRE Industrial Agency and added: "The major advantage of such projects lies in neat offices, accessible commercial or warehouse space and of course, a good location. Multiple companies in one place then have a synergy effect for business."

A similar concept can be found, for example, in Čestlice, but limited transport access to the area around highway D1 negatively affects the project.

By contrast, Letňany is a very attractive and accessible location. In addition to very good access (10 minutes from the Letňany Metro C stop, 4 minutes from highway D8, 10 minutes from the Prague Ring, D10 and D11), the business park offers a guarantee of a sufficient employment pool – 1500 new apartments have recently been completed across from the future location of the park and another 2000 are being constructed now.


Abroad the concept has especially been favoured by small and mid-sized companies, typically selling furniture, car accessories, ceramics, bathroom fittings, car dealers and services, or even technological companies. The concept offers quite a flexible layout of warehouse space which may partly be used as a showroom. Thus it is not surprising that a Czech leader in auto glass repair services, a Czech paint vendor and a German producer of health materials are amongst the first parties interested to rent space in the Letňany Business Park.

The Letňany Business Park will comprise a total of five buildings. The space newly created for rent will be app. 26,000 m2 and offer flexible units from 150 m2 to 1500 m2. The construction of the first of five buildings with a total area of 2800 m2 has commenced. This first building is planned to open as soon as autumn of this year and the construction of the second building is expected to start by the end of this year.

CBRE is currently searching for companies for this project that will appreciate the new 3 in 1 concept (business activities supplemented by showroom, office or floor space).