Crisis is gone - Retailers are starting their expansion plans
Fashion chain stores are most interested in the Czech Republic
The Czech Republic is ranked 10th as watched by retailers looking for expansion
Germany is the most popular global market for retailers in 2014
70 % European retailers to open stores in Germany this year
US Retailers to Expand Most Actively in Global Markets
Chinese retailers to expand mainly within their region
Germany is the most sought after retail market in the world with 40% of global retailers planning to open a store there in 2014, while US retailers dominate large-scale expansion plans with almost half aiming to open 40 stores or more, according to the latest research from global property advisor CBRE.

Germany is by far the most attractive global retail market ahead of France, UK, Austria and China. Global retailers are attracted to Germany as it offers the opportunity to target 20 large cities in one market. More than 40% of retailers globally plan to open a store in Germany in 2014 and this figure increases to 70% when taking into account only European retailers. Germany is also the second most important target for American retailers.

"The Czech Republic has been ranked 10th amongst countries where retailers are aiming to open stores.The study indicates that the Czech Republic is attractive for retailers from all segments, however, dominated by fashion of all price categories. In view of country of origin, the Czech Republic is the most attractive for European retailers," Veronika Tebichová, Head of Retail Agency in CBRE Czech Republic commented on the study results.

Trust in the global retail market has increased.

The amount of retailers with large-scale expansion plans has increased dramatically in 2014 revealing a renewed confidence in the global retail market. More than one third (35%) of retailers plan to expand their store portfolio by 40 stores or more over the next 12 months. Of those retailers looking to open 40 stores or more, Mid-Range fashion and Value fashion are the most active sectors accounting for one third of the total each.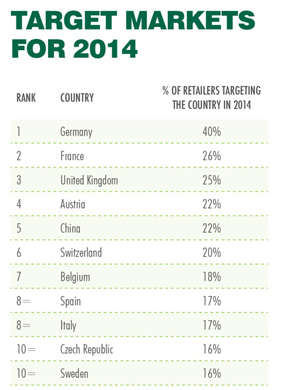 Peter Gold, Head of Cross-Border Retail, CBRE, commented:

"An upturn in consumer confidence and renewed vigour in the global retailer community has put large scale expansion firmly back on the agenda. While the pace of international growth has slowed in recent years, retailers are making clear their intention to materially invest in their store networks throughout 2014. Their preference for a wide range of markets highlights the continued importance of cross-border growth. Germany is on top as the market of greatest interest to retailers this year. The countries continued appeal reflects the strength and scale of the economy and the successes of several big brand new entrants."

US expansion – Retailers also looking for opportunities in the European market

American retailers have the most extensive large-scale expansion plans with almost half (47%) of retailers surveyed looking to open more than 40 stores in 2014. The US is the largest retail market in the region and unsurprisingly the most important target market for retailers based in the Americas - almost half (43%) are aiming to expand there in 2014. However, due to the maturity and competition of domestic markets, many North American retailers are seeking to grow their global businesses, providing the opportunity to expand on a large scale. US retailers are targeting European markets in particular with 19% looking to open stores in Germany this year and 14% in the UK, Canada, France and Austria.

David Close, Director, Cross-Border Retail EMEA, commented:

"As well as focusing on their home markets, American retailers in 2014 are increasing looking beyond their domestic borders. Several major US retailers have been active across Europe in recent years. These brands realise that they cannot expand indefinitely in a competitive domestic market and that international growth is an imperative. With consumer confidence returning across many markets in Europe, North American retailers feel that this is the right time to capitalise on a largely untapped growth potential. US retailers are progressively developing their store networks and global offering - this trend will continue to grow and diversify in 2014 and beyond."